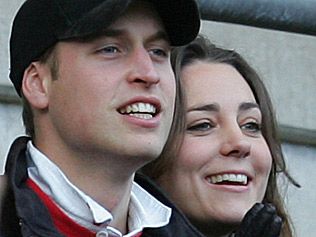 Living in Scotland it's fairly easy for me to forget that there's a royal wedding going on, as North of the border our tourist shops are still brimming with regular Scottish tat (furry haggises, kilt towels, See You Jimmy hats, whisky flavour condoms… need I continue?). A brief visit to London for business, however, made me realise just how much of a big deal the upcoming nuptials are; for the British tourist trade.
Department stores are decked out in Union Jack flags. Mugs plastered with the faces of Prince William and his bride fight for shelf space with plates, t-shirts, and even a special 'Fairy Tale' edition of the famous washing up liquid. Even our little ones aren't safe from the marketing machine with children's toys, sweets, and Disney Princess dress up dolls all clamouring for a piece of the Royal Wedding action. There are even Kate and Wills Oyster Cards for the busy London commuter.
In the Internet age, do people really send postcards anymore? The vast number of Royal Family themed postcards crammed onto display units outside of every shop in central London would suggest so. Although I'm not sure how happy I would be to receive a disembodied Kate Middleton head through the post with "food good, weather great, wish you were here" scrawled on the back.
Even new dvd releases are subject to Wedding fever. A quick browse through the virtual shelves brings us to 'William and Kate: The Movie', just in time for the big day. Although most of me thinks this is ridiculous exploitation of American and Japanese tourists at it's best, I am intrigued by the concept. To be fair, it's probably the same part of me that used to browse gruesome websites such as Rotten.com as a teenager.
Many blogs have sprung up cataloguing the amount of tourist baiting collectibles, arguably the most popular being the Tumblr blog simply titled Royal Wedding Tat. I really don't envy the job of the blogger, who must spend a vast amount of time crawling the dark corners of the internet searching for bizarre items which include Kate and Wills knitted meerkats, jellybean portraits of the couple, and £20 a box breakfast cereal, but I do appreciate the work that goes into blogs such as this for a good giggle over my lunch al desko.
I know I'm sounding like a wet blanket, but it's not all bad. These brilliant tea-bags from Liberty London tickled me pink, and of course who can complain about having a day off from work? Perhaps in Scotland we aren't as enamoured with the Royal Wedding - with only one application for a street party coming from Glasgow – however I can already foresee a high level of drunkenness. The wedding is at 11am on a Friday morning and already my friends and colleagues are discussing which Royal Wedding drinking games to play. You can even do it drinking the same champagne the guests will be drinking.
Some people are opting to leave the country during the bank holiday madness; I'm happy to admit that I'm one of them, although my flight isn't until later in the evening so some Pimms and cucumber sandwiches may tempt me during the big event.
All the best to Kate and William; I think it's great that they're asking wedding guests to donate to charities rather than buying gifts, but I can only hope that well wishers don't donate pieces of Royal Wedding tat.
Jennifer is a part of the digital blogging team at cashzilla.co.uk who work with a growing number of finance brands. For more information about me, or to keep up to date with the latest in finance news, check out my posts at cashzilla.co.uk or visit my Twitter account, @cashzilla.