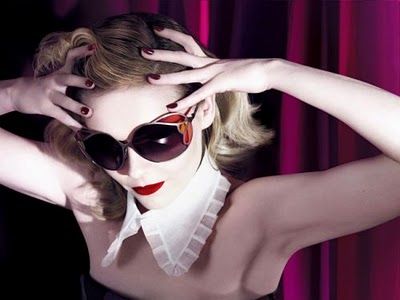 Celebrities have been known to be responsible for surges of demand of particular brands and products and it has been no different with sunglasses this summer.
Celebrities have been shopping in their forces to get hold of the must have sunglasses for this summer. True to form, they are designer and come with the associated price tag, but if you're into looking your best and having a piece of the celebrity lifestyle, then sunglasses are a great place to start.
Tell me! What sunglasses?
The celebs have been chasing one brand more than others this year. Miu Miu glasses have been flying off the store shelves in record numbers. Miu Miu, famed for their bags carried by celebrities such as Fearne Cotton, Kate Bosworth and Natalie Portman. Miu Miu also have a full range of ready to wear womenswear, but don't be fooled, the brand have a strong focus on their eyewear department. The Miu Miu frames embody classic chic and have propelled the oversized sunglasses trend to a new level.
Who's been wearing them?
Photos of Kate Moss, Rachel McAdams, Ashley Olsen, Paris Hilton and Jessica Alba have all come in this year of these high fashion celebrities hiding behind their oversized Miu Miu frames. With countless celebrities endorsing the brand, it's easy to see how Miu Miu are now competing against brands such as Chanel, which had such a large share of this market previously.
Tell me more about the actual glasses!
Well, there a variety of models available, all in the premium price category. The Miu Miu must haves are competing with Prada, Chanel and Gucci to be the top selling sunglasses on the market. Luckily for Prada though, who own Miu Miu, are starting to see significant revenue being brought in for the group. If you want to be specific, Paris Hilton chooses the MU021S frames which are the peak of oversized trend. They come in a variety of different hues to suit any colour palette you plan to be wearing this season.
Should I make the investment?
Although pricey, Miu Miu eyewear is timeless and supports the overall oversized trend, rather than a specific niche of it. This means a pair of designer sunglasses are likely to stay 'hot' for seasons to come, and the outstanding quality is sure to keep them protecting your eyes and making you look good for years after purchase. Like 'dogtooth' and quality luggage items, good sunglasses will stand the test of time. Due to their popularity, you can luckily find Miu Miu frames in a variety of outlets across the country, and online for the best prices. It could be time to treat yourself and in what better way?
About the Author: Francesca is an amateur model and fashion writer specialising in designer glasses.