Nothing gains as much interest as a celebrity couple on the pregnancy train. Is it her real father? What's the newborns name?
Nothing gains as much interest as a celebrity couple on the pregnancy train. Is it her real father? What's the newborns name? Will the nine other adopted children be jealous of the biological child? It's all so much more interesting than your everyday Mary Sue pregnancy down the street.
Beyoncé Knowles
Probably one of the most talked about pregnancies this year. Her due date is at the end of January and she doesn't want to tell if it's going to be a boy or a girl. This will be her first child and so far, she's glowing like a sunbeam.

Natalie Portman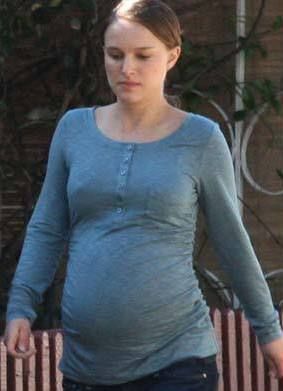 Natalie Portman is also under the spotlight with her new born baby son. She recently starred in Black Swan and she, along with fiancé is Benjamin Millepied, won't release the name of their baby boy. The world is waiting in anticipation!
Evangeline Lily
This popular Lost actress recently brought her first baby boy into the world. Evangeline is very shy about her private life and tries to live normally. The baby's name hasn't been revealed yet but fans all agree that she, boyfriend Norman Kali and their baby son look as happy as can be.
Victoria and David Beckham
Victoria finally let slip that the baby is going to be a girl. She commented at the LA Galaxy gathering "obviously we're very lucky to be expecting again, and this is the first time I'm going to say it: it's a little girl." Victoria and David have been under the spotlight recently for their relationship problems but it seems as if they've worked everything out. The happy couple stated that the boys are excited and happy about their sister.
Jessica Alba and Cash Warren
Jessica Alba and her husband Cash Warren are expecting another bundle of joy. Jessica certainly gave her first daughter an interesting name, Honor, and it's no wonder with a husband named Cash! Jessica recently announced on Facebook that she was thrilled about her little girl and thanked all of her fans, friends and family. Jessica Alba was nominated number one on a list of the 99 most desirable women in 2006. She certainly kept her figure after the pregnancy with Honor, and most likely will with the new girl on the way too. Women all over the world are jealous Jessica!
Penelope Cruz
Penelope Cruz recently replaced Keira Knightley in the latest Pirates of the Caribbean saga and although she's a busy career woman, she still manages to make time for her family. Last July she played a quick card and married Javier Bardem in the beautiful Bahamas. Recently Penelope Cruz gave birth to a healthy little boy but the secretive couple haven't released a name for him just yet. Rumours are floating around, however, that it might be Leo.
Hopefully they will get enough privacy and time to grow as a family and be spared the ugly scathing words from some of the publishers and media hooligans on the prowl these days!
Ruan Smit is an experienced online content writer who enjoys writing about various topics such as natural health practice,health food,nhp omega 3 plus and baby food.