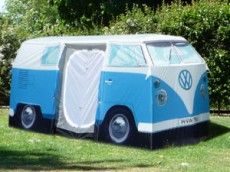 What do Jamie Oliver, Jenson Button and Richard Hammond all have in common? Answer – they've all recognised the true brilliance of the VW camper van. Even Britain's Got Talent winner George Sampson bought one a few years ago – despite being too young to drive it.
Celebrities are getting into camper vans like never before. And why not – they're the best way to see all the thousands of sites and attractions that Britain has to offer. Whether it's a beach in Dorset, a national park in Wales or rocking up to a festival in Scotland, camper vans are the only way to go. There's not much better than having wheels you can sleep in, or a home you can take anywhere.
Richard Hammond
Top Gear's Richard Hammond has ditched the caravan-trashing ethos of the BBC show and bought his own VW. The Hamster recently spent Easter on a week-long trip around Dorset with wife Mindy and daughters Izzy and Willow, and said it was 'without doubt one of our most successful holidays ever and quite possibly my favourite of all time'.
Jamie Oliver
Jamie Oliver used a 1959 Samba VW with a specially built trailer kitchen in his Channel 4 series Jamie's Great Italian Escape, broadcast as a personal adventure before he turned 30. No age is too old for campervans...
Jenson Button
Formula One racing driver Jenson Button has a 1956 VW camper van, and teamed up with fellow driver Lewis Hamilton to promote the 2010 Formula One British Grand Prix by driving around in a 1966 VW and giving out free tickets to the event.
John Quilter and Martin Dorey
Fellow chef John Quilter uses his VW to cruise around Britain's coastline on his days off and search for the country's best surfing spots as well as some of the best local ingredients, while Martin Dorey of BBC show One Man and His Campervan fame drives around the country sourcing and making dishes such as stinging nettle and bacon soup for his Camper Van Cookbook.
Other celebrities who've seen the camper van light include David and Victoria Beckham, Robert de Niro, Matthew Mc Conaughey and Dolly Parton, although 'camper van' might not be a term they'd use.
Rober de Niro
Robert de Niro reputedly roars up to sets in a $2 million RV which is three storeys high and has a whopping 11 plasma TVs. It's used as his dressing room and make-up area while filming, and at that size, hopefully for parties as well.
Posh and Becks
Posh and Becks 'love getting away in these giant motorhomes' to escape the press glare (and the kids), according to the News of the World. 'People might find it hard to believe, but it's a simple pleasure they both enjoy enormously,' a 'source' told the paper. 'Their lives are so hectic that it's a rare chance to forget about Brand Beckham and concentrate on each other.' But don't despair if you don't have a million or so in spare change to buy the best motorhome available. VW camper vans are cooler anyway. And they're available to everyone, celebs and non-celebs alike.
Looking for camper van sites in the UK? Then be sure to read the reviews on Pitchup.com to find the best parks as voted by you.