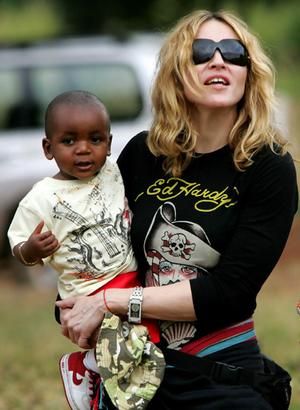 Madonna founded the charity after having been required to put something back into the Malawian community rather than, as she was accused by many detractors, simply using the country to shop for designer accessory babies.
Madonna's charity in Malawi, Raising Malawi, has been found to be somewhat lacking in, well, charity after having wasted US $3.8 million on a school which will never be built.
Madonna founded the charity after having been required to put something back into the Malawian community rather than, as she was accused by many detractors, simply using the country to shop for designer accessory babies. The notion of an international celebrity helping one child out while leaving the rest of the country's orphans to languish in abject poverty seemed a step beyond the pail so Madonna set up a charity, supported by all her showbiz chums, to provide schooling, accommodation and healthcare for the country's most needy children.
However, the managers and administrators of the millions which were flowing into the charity's coffers found other areas in which to spend the money and now the charity's academy for girls will never be built.
In October Raising Malawi's executive director, one Phillipe van den Bossche, (who, aside form counting his previous experience as "Director of Philanthropy" under the company of "Madonna" seems to have very little other experience other than being the partner of Madonna's former trainer. No, really, that's it) stepped down after criticism of his management and the money which was being spent on such expenditure as exorbitant salaries, cars, offices and membership of a golf course. It also went on free housing and a car with driver, according to an investigation carried out by the NYT.
The board of directors has now been removed from the charity and replaced by a board that includes Madonna herself and her manager. The announcement that the Raising Malawi Academy for Girls which as well as being supported by Hollywood A listers was also in receipt of funds from Madonna's Kabbalah co-members was a surprise to Malawian officials back in January and a great upset to the villagers who had had to give up their homes to be cleared in advance of the construction work on a site of 117 acres near Lilongwe, Malawi's capital.
Once the project was clearly in trouble Madonna, who's reported to have given $11 million dollars of her own money to the scheme asked the Global Philanthropy Group to look into matters for her. The report that they published was critical not only of van der Bossche but Anjimile Oponyo, who was supposed to have been head of the school. They criticeised van der Bossche's oversight of both the building works and the curriculum which was to be used in the academy. Global Philanthropy said in their report that van der Bossche's "level of mismanagement and lack of oversight was extreme in both aspects of the project and the lack of success of the players on the ground is in large part a result of his inability to effectively manage project plans, people and finances."
When it came to Oponyo, they were no less harsh saying: "Her charisma masks a lack of substantive knowledge of the practical application of educational development, and her weak management skills are a major contributor to the current financial and programmatic chaos."
Much of the money which was 'spent' went on architects, designers, salaries and cars for employees who have still yet to be appointed. Trevor Nelson, who's founder of Global Philanthropy Group said that despite the money having been disposed of, the project "had not broken down, there was no title on the land… there was a startling lack of accountability on the part of the management team [in both Malawi and the United States].
"We have yet to determine exactly what happened to that $3.8 million. We have not accounted for the funds that were used."
The building of the school had been thought to be scheduled for December this yearbut there could be further delays as the villagers who've already lost their homes are in dispute with Raising Malawi claiming that they have received insufficient remuneration for the land where the school is to be built.
Madonna is insisting that the plans are still all to go ahead, even if not in the form she had originally imagined. Now the mother of two Malawian children adopted under media scrutiny and controvercy said that: "There's a real education crisis in Malawi.
"Sixty-seven per cent of girls don't go to secondary school, and this is simply unacceptable. Our team is going to work hard to address this in every way we can."
Michael Berg was more pragmatic. He's the co-director of the Kabbalah Centre and also co-founder of Raising Malawi. He stated to the charity's contributors that: "[A] decision has been made to discontinue plans for the Raising Malawi Academy for Girls, as it was originally conceived."
In January Madonna said that, undaunted, she would look at building secondary schools throughout the county so that she could give education to thousands, not just hundreds of girls. Nelson is now administrating for the charity told the Associated Press that they would be: "expanding the ability for a group of nonprofits to provide education to more kids. Madonna had concerns about the effectiveness and management team and has made sweeping changes in order to better serve more children." He also confirmed that the Kabbalah Centre no longer has dealings with Raising Malawi.
The school, as planned would have cost $15 million to build and would have been available for 400 students. The Malawian officials responded to the original criticism by saying that they were stunned and maintaining that Madonna was blaming them for the breakdowns because she had been unable to provide the money which she had promised to them.

Ms Oponyo made a statement that she wasn't able to talk about her work in the foundation and the claims of mismanagement, the accusations of an 'extravagant' remuneration package which included a car and driver and membership of a golf club. van der Bossche is also gagged as Madonna is fabled for her non-disclosure clauses in any contracts that she has with her employees.
Dan Cash is a financial researcher following asset tracking and fixed assets.