Naomi Watts and Liev Schreiber's first child together, is due in the summer.
Celebrities came to support
Tom Ford
's inspired menswear store. Even really pregnant
Naomi Watts
unable to wear a bra came to the event.
In the pics:
Gwyneth Paltrow, Naomi Watts, Kate Hudson, and Liv Tyler; Kate Hudson and Julianne Moore, Kate Hudson and Liv Tyler; Naomi Watts and Kate Hudson; Tom Ford and Patricia Clarkson; Tom Ford, Naomi Watts and Gwyneth Paltrow
: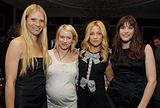 Trivia:
Tom Ford
's first retail store opened April 12, 2007 in New York at 845 Madison Avenue, a few blocks down from the FrogPond.
3 years ago after leaving
Gucci Tom Ford
preferred working in
Hollywood
to designing clothes. Now
Tom
reveals he missed fassion very much.
"I hated not creating something. I really missed what I was doing."

Now that
Ford
is back in fashin, many people wonder why he chose menswear to focus on.
Ford
explains that it was hard for him to find menswear for himself and that's when the idea came to him that it would be great to start his own line. Therefore he calls himself his own muse.