Find more: Amber Riley, Chord Overstreet, Chris Colfer, Cory Monteith, Dianna Agron, Harry Shum, Heather Morris, Jenna Ushkowitz, Kevin McHale, Lea Michele, Mark Salling, Naya Rivera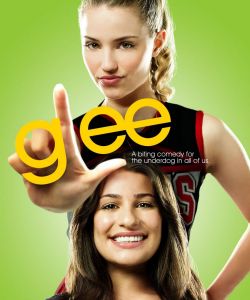 In what will surely be earth shattering news to 'Gleeks' everywhere, the hit Fox series 'Glee' will be released as a 3-D film for two weeks this summer.
'Gleeks' are what rabid fanatics and supporters of the show call themselves. The film is called "Glee Live! In Concert!" and will feature the cast and crew backstage as they travel around the country performing their live stage production. The 3-D film will be directed by Kevin Tancharoen, who directed 'Fame' and will be released on August 12.
Among the cast members scheduled to perform are Lea Michele, Amber Riley, Cory Monteith, Chris Colfer, Jenna Ushkowitz, Kevin McHale, Mark Salling, Naya Rivera, Dianna Agron, Heather Morris, Chord Overstreet, Harry Shum, Jr., and Darren Criss. Ashley Fink and members of the Warblers are also expected to make an appearance in the 3-D 'Glee' film. So far it is unclear if series stars Jane Lynch, the arch nemesis of the 'Glee' club and Matthew Morrison, its supporter, will appear.
'Glee' has been a hit show for the Fox network since its debut in 2009. It tells the story of a high school glee club called 'New Directions' that is competing on the show choir circuit. Each episode features several musical numbers with cast members singing songs from a number of notable performers such as Britney Spears, Rihanna, Billy Joel and Madonna. The cast also re-enacted the hit cult musical "The Rocky Horror Picture Show" which brought them even more critical acclaim.
The show has been a hit with the teenage demographic and parents whose children perform with their high school show choir. It has spurred discussions about fitting in, peer pressure and doing what you enjoy without worrying about what other people think about you. The show has caused a resurgence of interest in show choirs and glee clubs around the country with more students than ever signing up for after school music programs, looking to expand their repertoire of songs and pursue their musical dreams.
'Glee' has also been a big hit with television critics. Normally very fickle about what they like and what they do not like, the critics pretty much agreed the first season of 'Glee' was unlike anything they had seen before and they liked it. Season two met with a slightly less enthusiastic response from critics who quickly tired of the bubble gum song choices and simple stories. They predicted a serious decline in viewers over the course of the season but so far viewership has stayed strong. In fact, it has even grown slightly a good sign they are doing something right.
There is also no denying the commercial success of the 'Glee' commercial albums, with songs actually performed by the cast members. They have now sold more than 21 million singles and nine million albums. There is also a 'Glee' karaoke game for the Nintendo Wii, DVD and Blu-Ray releases, a young adult series of books based on the show and an iPad app. The albums are released through the iTunes store the same week the show airs. The albums are released through Columbia Records.
'Glee' is definitely a juggernaut that just keeps making money for the producers. Whether or not this summer's 3-D film is good is almost an after thought. As long as it exists, 'Gleeks' will flock to it and it will make money. At least it will this season.
This article was written by a Virtual Assistant and a Gleek. To find out about Virtual Assistants, visit our website and find out more!