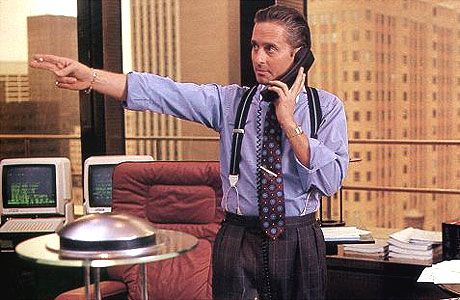 There have been several fantastic films made about greed – here are three of the best ones.
Greed is the newest four letter word today (even if it's actually five letters). With the economy failing so dramatically due to the greed of the likes of sub-prime mortgage lenders, AIG and Bernie Madoff, it's on everybody's mind. However, greed as a topic of conversation is not new – just taking a look at movies throughout the decades, there have been several that explicitly deal with the issue. Although greed may not be a good thing in real life, in movies it's a great theme to explore and a great driving motivation for characters. There have been several fantastic films made about greed – here are three of the best ones.
1. c (1987) - Directed by Oliver Stone, this classic film tells the story of a stockbroker that is desperate to succeed on Wall Street. He gets involved with his personal hero, Gordon Gekko, only to be drawn into a terrible web of lies, greed and money. The movie was a hit, with actor Michael Douglas receiving an Academy Award for his depiction of the unscrupulous Gordon Gekko. Wall Street became almost an archetype, standing in for the many excesses of the 1980s. This movie will forever remain in the pop culture consciousness with the famous phrase "Greed is good," even though Gekko never actually says this line in the movie – the actual quote is "greed, for lack of a better word, is good." The legacy of this movie continues on today with the recently released sequel Wall Street: Money Never Sleeps.
2. Glengarry Glen Ross (1992) – Adapted from the award winning play of the same name by David Mamet, Glengarry Glen Ross deals with greed and corruption within the real estate industry. Directed by James Foley, the film covers two days in the lives of the four main characters. Each character is a real estate salesman who has just been told by corporate headquarters that every employee except for the top two salesmen is going to be fired in a week. The salesmen try to win by employing dirty and dishonest sales tactics and engaging in dishonest conduct within the office. The most famous quote from the movie, "A-B-C. Always be closing" sums up the corporate attitude perfectly. A great look at pressure driven sales tactics and what affect they have upon the public at large.
3. Citizen Kane (1941) – When thinking of movies that deal with greed, Citizen Kane, directed by Orson Welles, may not be the first one that comes to mind. But when you think about it, greed is at the root of Kane's problems. Charles Foster Kane embodies greed perfectly – he starts out as a poverty stricken idealist who eventually makes it big. But once he has all the money and power he could ever want it still isn't enough, which results in the loss of his friends, family and everything he holds dear to him.
Josh Matten is from the insurance website LifeCover.ca. Click here to visit his website.